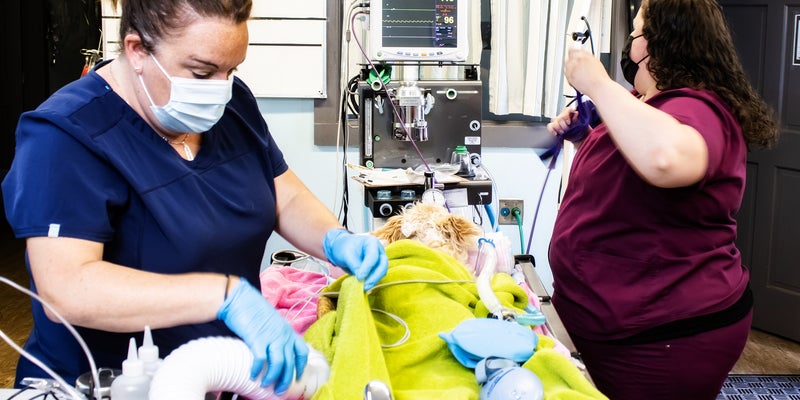 At Powder Ridge, we understand that anesthesia and surgery can evoke a very emotional response in a pet parent's heart While anesthesia unfortunately carries a small risk, we do everything possible to ensure the safety of your pet during a surgical procedure.
We start with a thorough pre-operative physical examination and bloodwork to ensure that no pre-existing conditions are present. We tailor every anesthetic protocol to each patient based on weight, age, concurrent disease and procedure being performed—there is no "one size fits all approach". Our expert technicians place an intravenous (IV) catheter and IV fluids are started. This allows us to ensure proper hydration and to maintain our patient's blood pressure while they are under anesthesia. During the procedure, your companion's blood pressure, heart rate, temperature and oxygenation levels are continually monitored and recorded by a highly trained nurse anesthetists. Should even the smallest changes in these parameters be noted, immediate changes to the anesthetic protocol are implemented to correct them. This strict monitoring is continued until your companion is completely recovered from anesthesia. It's not unusual to find one of our team members curled up next to one of our recovering patients!
We know that providing home care after surgery can be equally as stressful. Rest assured, all of our patients are sent home with aggressive pain control and, when appropriate, medication to aid with exercise/activity restriction. An elizabethan collar is also dispensed to most patients—we have many different varieties to choose from and we always select the one that will be the most effective but least upsetting to our patients and their owners!!!
Routine surgeries (such as spays/neuters, growth removals, laceration repairs) are performed by our staff veterinarians. We have a board certified surgeon who visits our facility as needed to perform specialized and orthopedic procedures.
Surgical services we provide include:
spays (ovariohysterectomy)

neuters (castration)

mass (growth) removal

bladder stone removal (cystotomy)

splenectomies

cherry eye (prolapsed nictitan) repair

cesarean sections
We look forward to providing your companion safe and excellent surgical care.